Six things people do (and I didn't) to start a podcast and why my podcast is successful anyway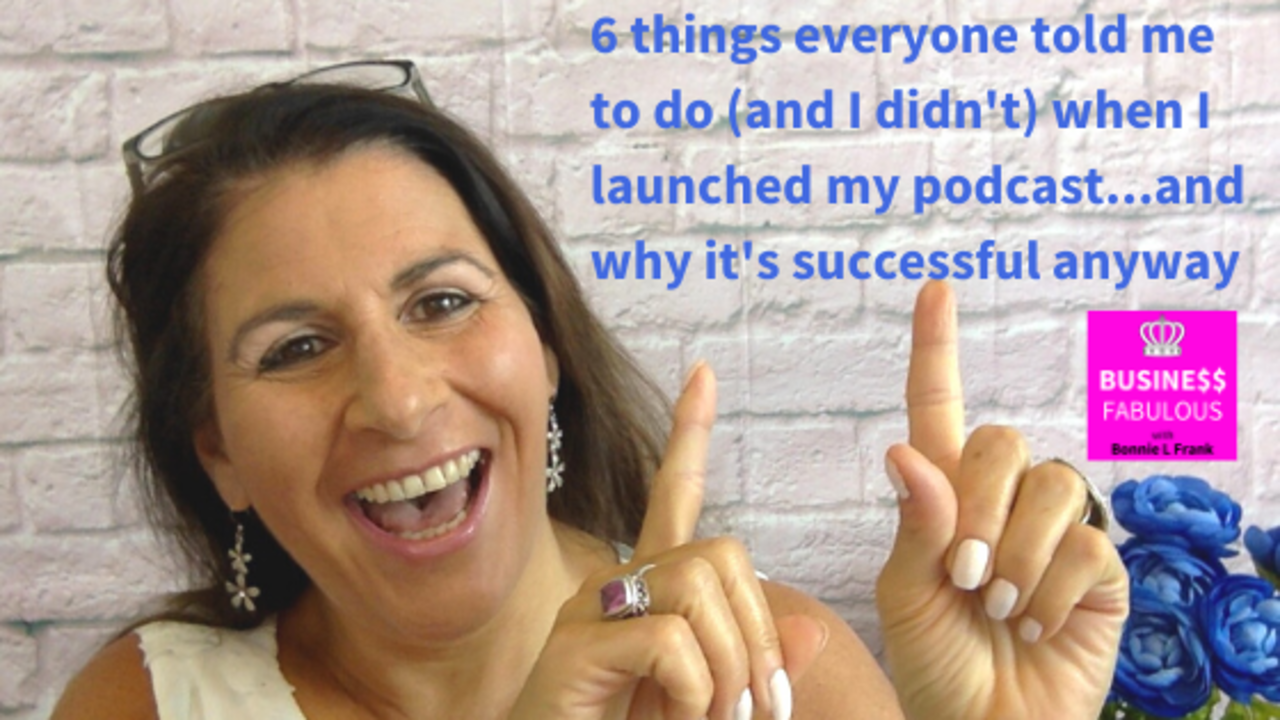 There are six things that many people seem to do when they start a podcast, but I chose to not do any of them. Find out why and how my podcast is successful anyway in episode 21 of the Business Fabulous podcast.
In this week's episode:
"Launch" in terms of podcasting really means that you click the "publish" button and put your podcast out into the world to be heard; however, it's also used to refer to a detailed, usually lengthy collection of things to do, marketing and events leading up to you actually clicking the publish button. I didn't do a formal launch, hire a launch coach or anything else I was told I needed to do.
"New and Noteworthy" for Apple podcasts is like getting on the first page of Google. It definitely gets you noticed and will likely get you a lot of new listens; however, This doesn't do anything for your charting around the world, subscribers in your target audience, downloads or your bank account.
Write a book and use your podcast to promo your book. I may write a book, but I haven't written one yet.
A "launch team" could be a launch coach, an editor, a graphic artist, affiliates, marketing agency, etc. I didn't have any launch team because I didn't have any launch.
Fancy/expensive equipment. I started podcasting with the exact same equipment I'd used for thousands of livestreams. Advice: Start where you ARE.
Ads: I haven't yet advertised my podcast yet, but I likely will at some point.
Mentioned in this episode:
This week's challenge:
Use one of the links below for a free consultation so you can get the help you need TODAY to grow your business or monetize your podcast.
Have you joined my free Facebook group yet? If you want free, proven strategies to get your audience finding you online and buying from you and really grow your business by leaps and bounds, you want to be here!
Wanna chat? Grab a free 20-minute Business Breakthrough session here or chat about ways to monetize your podcast here.
Be sure to subscribe to the podcast so you won't miss an episode!
Are you ready for more business success? Listen here.
If you enjoy this week's podcast episode, I'd love it if you would do a few things:
1. Subscribe to the podcast on Apple Podcasts, Google Podcasts, Stitcher or wherever you listen to podcasts.
2. Rate and review the podcast on Apple Podcasts.
3. Tag me on your Instagram stories! Use #business fabulous and I'll reshare that on ALL THREE of my IG accounts! Tag me here: @businessfabulouspodcast @bonnie.frank or @thevisibilityexpert.
Thank you so much for supporting me! 💕
I hope you'll listen in and then hop on over and join our Facebook Group here where the discussion continues.